Content Management Sysytem
"We do not ensure you for the cheapest services, but we can ensure you for the best service we deliver."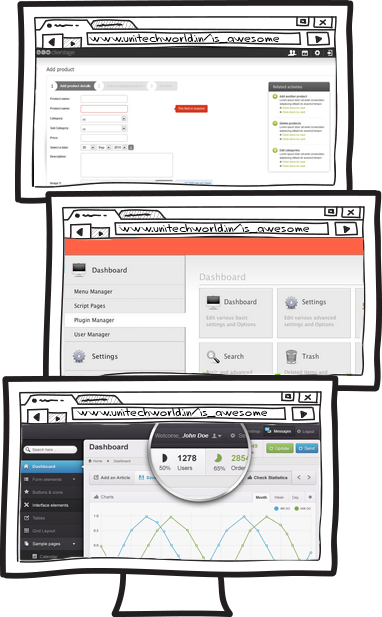 So what exactly is a CMS web site?
CMS or a 'Content Management System' quite exactly allows you to control and manage the content within your web site - without technical training. Using this uncomplicated system you can very easily add, delete images and edit text in your web site on the fly. You can also have an unlimited number of pages and a full site-search engine. What's more... with 'UniTechWorld Services' you can have a highly professional CMS web site at a very reasonable price indeed!
Great for users with no programming or HTML experience?
Simply put, if you have just a little experience with Microsoft Word then you will be able to manage the content of your own web site very easily to be sure. You need have no programming or HTML experience. Editing can be done with any normal web browser from anywhere in the world - or with your iPhone :)
Why use 'UniTechWorld' to develop your CMS website?
However, you need a professional company to design and develop your site. Our sites are featured in many online design portfolios. Our sites don't only look good - we market them so that they perform well and bring you traffic and business.
In the field of web design you really do get what you pay for. Let's face it - it doesn't matter how little you paid for your website or how attractive it is. If it can't rapidly be found in the search engines then it is losing money for you every single day. Now that is a very expensive website!

General Inquiries
Get the conversation started and please don't hesitate to reach out with any question you may be pondering. We will get back in touch with you in a timely fashion.
info@unitechworld.in
+91 657 2220547 / 8578001323