Responsive Web Design
"We do not ensure you for the cheapest services, but we can ensure you for the best service we deliver."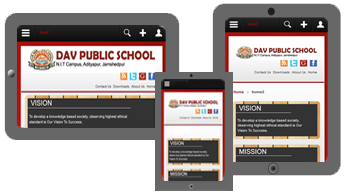 With the ever growing & rapidly adapting Internet industry, it's not unusual to witness a procedure that becomes the definition of its respective field. Responsive web design or more popularly known as RWD can be classified as an example. It is a technique developed by Ethan Marcotte & now is used by the modern day web designers, through which they craft sites to provide the finest viewing experience to the viewer. Keeping the entire user required features in mind such as easy reading of the content and navigation through the website with minimum re-sizing, panning, and scrolling on a variety of devices such as desktop computer monitors, laptops, and tablets to mobile phones.
Responsive Web Designing is swiftly becoming the future of Web Designing. In light of an expert opinion by Jeffrey Veen, "Day by day, the number of devices, platforms, and browsers that need to work with your site grows. Responsive Web Design represents a fundamental shift in how we'll build websites for the decade to come." Revolutionizing the web designing industry, RWD is still a phenomenon to a majority of designers. In order to fully understand & master the new trick, one must grasp the core concept of responsive web design.
Media Queries
Flexible grid based layout that uses re-sizing
Flexible images & media
A fully functioning & best responsive web design needs to have all of the above mentioned features in it.

General Inquiries
Get the conversation started and please don't hesitate to reach out with any question you may be pondering. We will get back in touch with you in a timely fashion.
info@unitechworld.in
+91 657 2220547 / 8578001323